Why Google Travel is the only tool you need for all your travels?
We use Google in our daily life, let it be flight search, hotel search, maps or any review. Noone else is in better position to help plan our trip than a Travel tool from Google.
Keep reading to find the power of Google Travel.
Table of Contents
What is Google Travel?
Google Travel is Google's online tool to make the travel related bookings easy for its consumers.
Google Travel has kept its search engine tag on i.e Google Travel will display the cheapest, most relevant results when you search for it but for booking it will re-direct you to the airline or travel agent booking site as per your decision.
Google Flights has become synonym to Google Travel even though Google Travel is the parent of Google Flights!
So much so that when you type Google Travel in Google, it may show Google Flights as first result! most of the time!!
Google Travel Features
Google Travel covers all the aspect of traveling, except car rental booking. Following are the features or service offered by Google Travel:
1. Google Travel:
Click on the travel link on left hand side of Google Flights and it will give you an option of enter any destination.
Once destination is entered, it will display travel restrictions, things to do, travel related articles for that destination etc.
2. Google Travel Explore:
This is a mix of Google Flights and Google Hotels.
Click on Explore icon on the left hand side of Google Travel, enter your Origin, your Destination, the duration and it will give you flights, hotels options along with the places to visit.
The gif above shows the "Explore Nearby" feature where a pink location dot will help you with the tourist spots near by within a few hour driving distance.
3. Google Travel Things To Do:
This link is also located on the left hand area where you can enter any country, city and you will see insightful articles on how to get best of that place.
Google Flights is the biggest offering of Google Travel. Google Flights is so popular that no one refers to Google Travel even though they are actually using one of the feature of Google Travel!!
Once you have a look at the features offered by Google Flights as compared with other features like hotel booking, car rental, you will understand why this happened!
This is one more case of a brand name engulfing the business itself like no one says they need a photocopy, all say they need a xerox!!
5. Google Travel Hotels
Google Travel offers a very easy to use interface to search for Hotels.
Just below Google flights, you will see a link to search for hotels.
Enter the destination and select the dates, it will give you a list of hotels. The list includes premium as well as budget hotel.
Similar to Google Flights, Google does not have a booking option for hotels as well, it will just guide you till the Hotel booking website offering the rate you selected and from there its between you and the booking site.
Google Hotels is not as powerful as the GoogleFlight but may be google will improve upon it to give the same experience as flight.
The maps layer feature in Google Hotels tab is very useful though.
In the image above, do you see the toggle button in the bottom?
You can switch on the "walk toggle" and using the slider set to maximum 30minute of walk. All the options will use this as filter to display its options.
Just click on the icons on the left hand side to get guidance on transit, dining areas, tourist attractions, shopping areas.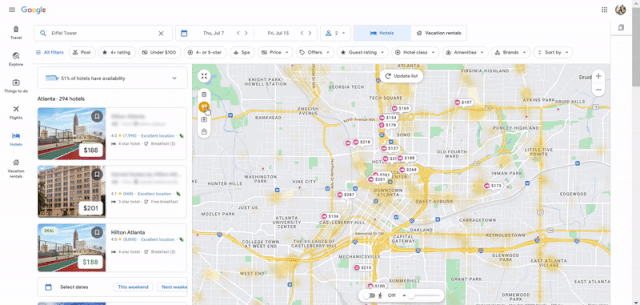 6. Google Travel Vacation Rentals:
This gives you an option to book House, apartment for your vacations.
This is a good feature from Google that competes with AirBnB but again its very basic but does what its supposed to do!
7. Tracked Flight Prices
You will not find Flight Price Tracking feature along with others listed above.
To access it, click on the three horizontal lines (hamburger menu option) at the right hand side) and there you will see it hiding!! 😃
Google Travel Car Rental
Hmm, well this is one area that Google Travel does not cover! Google may add it in future or may not. Anyway if you type Car rental in Google Travel search box, it will take you to the Google search engine that we all are aware of and display results there.
So for now, google travel rental cars are not part of Google Travel.
Google vs GOOG
Almost everyone must be knowing about Google, but have you ever heard of GOOG?
GOOG is stock market ticker symbol along with Google for its parent company Alphabet.
The difference between Google and GOOG is Google shares have voting rights but GOOG shares does not.
Google Travel App
Google has a huge play store for android apps but one app missing from its inventory is Google Travel App!
Yes, at the time of writing this article, there was no Google Travel App available either for Android or iOS or Windows or any other platforms.
All have to use the Google Web for Google Travel.
Travel With Google Map
Google Maps is not one of the feature of Google Travel but you can use it to plan your travel. This is more effective if you are traveling by your own car.
Open the Google Maps, Enter your Destination and you will see the full route on the map. In case its a very long journey and you want to stop for breaks, you can mark it along the route in the map.
You can also mark the Gas filling stations, hotels etc along the path where you may want to stop.
Google Travel History
You can see the places you visited or your travel history at Google Timelines.
Google Pay Flight Offers
You can pay for your flights using Google Pay (GPay). Will you get any offers/deals for doing it? No
Whatever rewards GPay have to offer on your purchase, you will get only those. No special Google Pay Flight Offers
Google Airasia check in
Airasia checkin can be done on its app or on web. In case you have airasia flight for india domestic, you will have to visit AirAsia India url to check your flight
Google Travel Video:
Watch this video from "Life Is A Photo Op" to summarize or if you are not much of a reader 😀
FAQ:
Is Google travel same as Google Flights?
No, Google travel offers much more tools for your traveling unlike Google Flights that offers only flight search. Over the period of time, Google Travel lost its name to Google Flights as its the most popular tool under Google Travel!
Is Car rental available on Google flights?
No, car rental is not one of the option available on Google travel/flights.
You will find Hotel search option though.
Is Google flights the cheapest?
The answer is Yes and No as different platforms offer low airfares on different days but Google flights should be one of the tool that you use to find the cheapest airfare. Check out the best day to buy airline tickets
Conclusion:
Google Travel is a one stop solution for all your travel needs. You will be able to find the cheap flight along with best deal on Hotel stay in here.
Do remember to check multiple website if you are not in a hurry different sites give low rates on different days!
Related Article: